Red Moon Necklace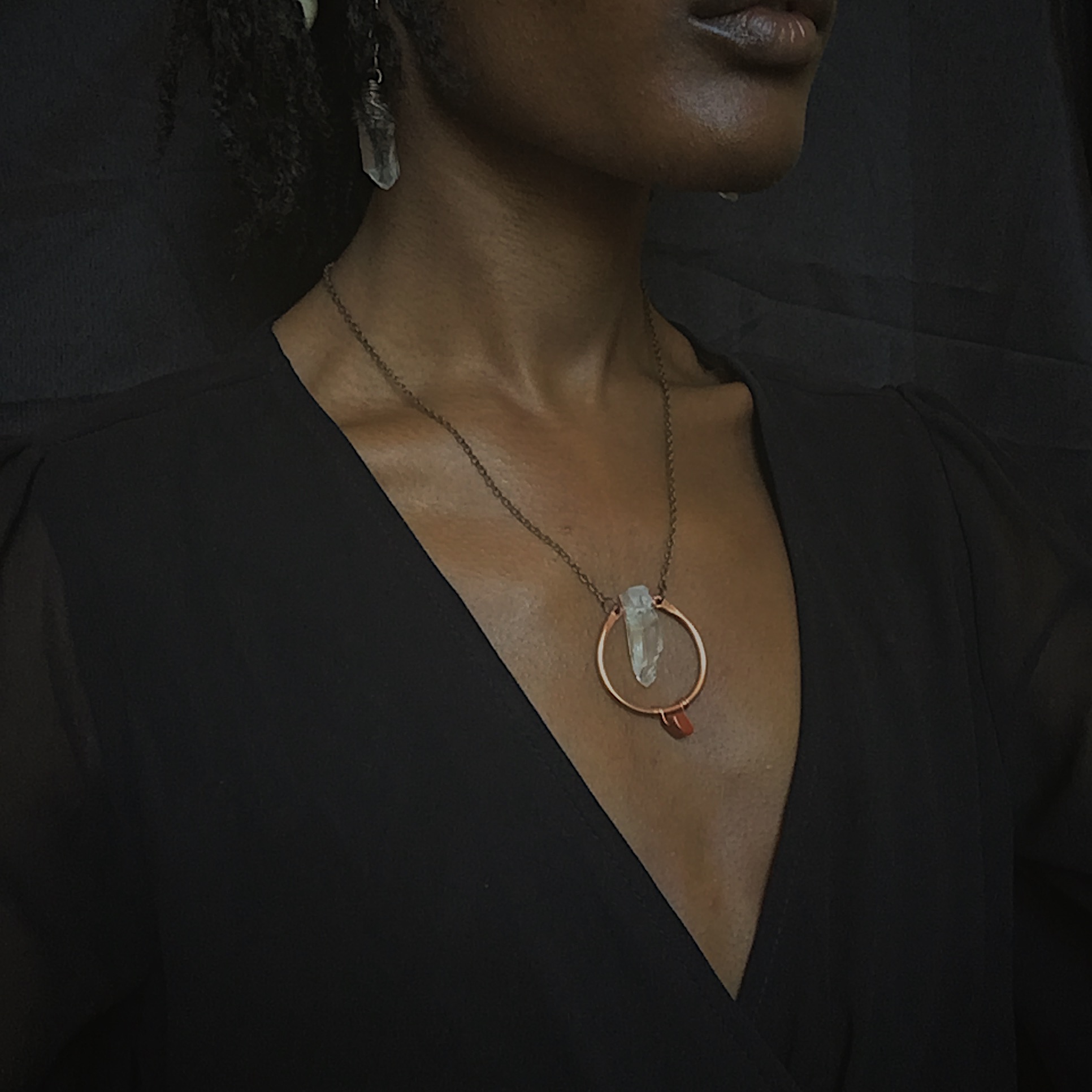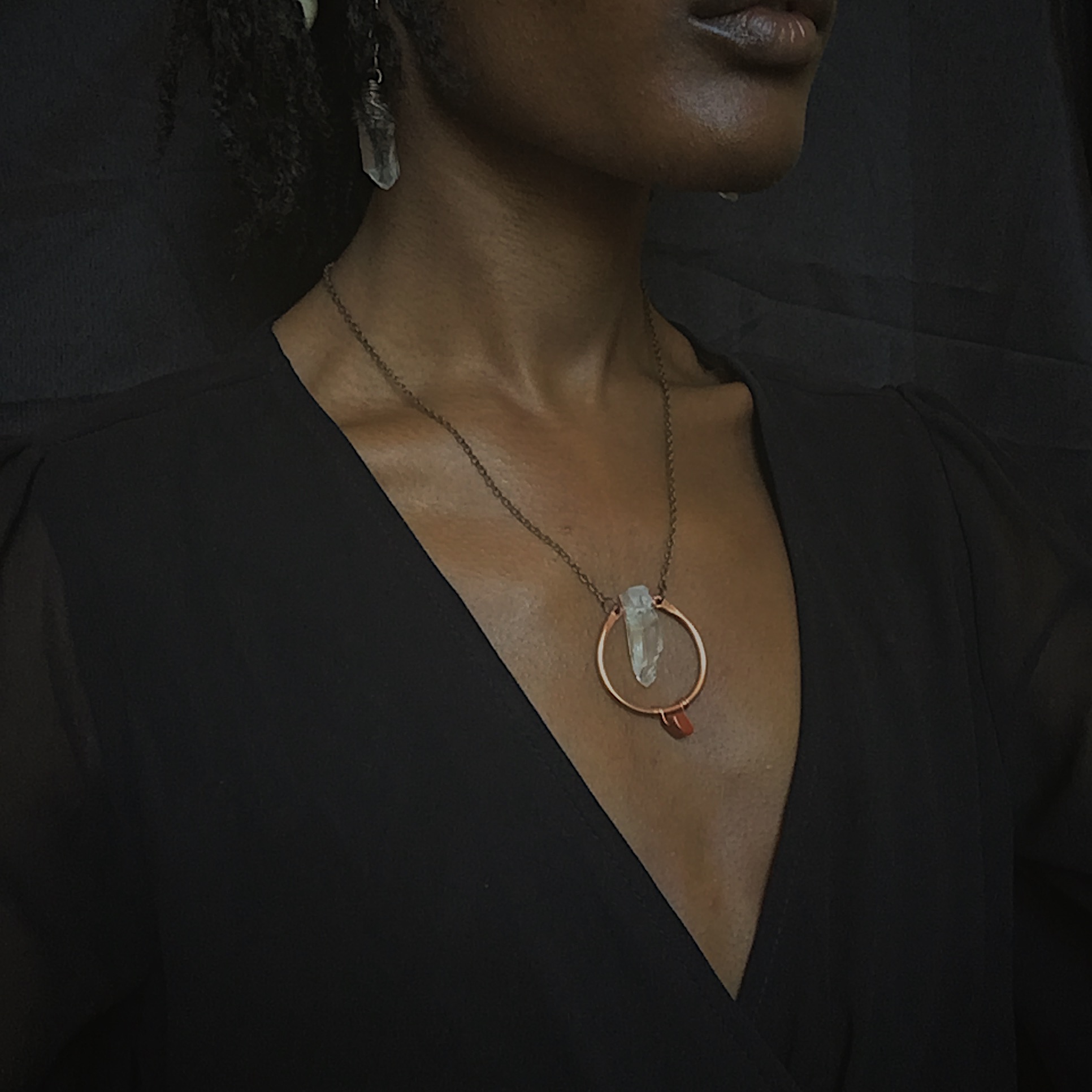 sale
Red Moon Necklace
Red Moon Necklace:
This necklace has been crafted to assist in grounding purposes, as Red Jasper is extremely nurturing, and will be amplified by Clear Quartz' properties. Many people struggle daily with connecting to their core and getting grounded due to various distractions that exist in modern day to day living.
Made to order hammered necklace

Raw Copper.

Hangs from 22 inch Copper chain.
~~~
Clear Quartz:
Clear Quartz is a master healer.
This stone is the most powerful, and perhaps well-known, energy amplifier. It absorbs, stores, releases, and regulates energy, as well as unblocking energy. Clear Quartz can be used as an aid in manifestation purposes as well.
Clear Quartz raises energy to its highest state, and when attuned to a specific energy requirement for the person in which it is aiding, Clear Quartz works at a high vibrational level. Program Clear Quartz with your positive affirmations specific to your needs. Say a positive prayer with Clear Quartz in hands, and this energy will connect to the Divine Spirit.
Clear Quartz is Earth's natural computer source, as it stores endless information. This is a stone in which connects the physical dimension with the mind. It is the most efficient for programming. Clear Quartz is used within the foundation of technology such as cell phones, microwaves, etc.
Clear Quartz unlocks memory, aids concentration, and protects against radiation. It also acts as a natural cleanser to other crystals when placed near them.
Clear Quartz brings clarity to communication, and aids in stimulating clearer thinking. Clear Quartz has a very positive effect on all Chakras—though it resonates strongly with the Crown / Third-Eye.
Program your Clear Quartz for healing if you suffer from health problems, or anxiety/depression. Clear Quartz also will aid you in building upon your physic abilities—such as clairvoyance particularly.
Combining Clear Quartz with other stones amplifies their energy very much so.
~~
Red Jasper:
Red Jasper is a gentle yet powerful healer, and stimulator of Life Force energy. They are known as the 'supreme nurturer'. These stones are filled with grounding earth energy—as they stimulate the Root Chakra. They have the ability to connect one deeply with the Earth, and aid in realizing and resolving difficult situations. Red Jasper has tranquil vibrations, and is very supportive during times of stress. Not only do these stones stimulate the Root Chakra, but they resonate with all three lower chakras, as well as the Earth Star Chakra. Red Jasper's element is both Fire and Earth, and corresponds to the planet Mars, as well as the signs Leo, Scorpio, and Virgo.
Red Jasper encourages one to nurture self, and embrace the Earth Mother, for we are extensions of her. Red Jasper feels like a warm hug from the Earth Mother. It is a very receptive stone, and is known to stimulate Chi. They are gentle, but very vital stimulators. Red Jasper is a very passionate stone.
Red Jasper has a steady frequency, and is known to rejuvinate and restore the libido. These stones also help to deepen into the manifestation of creative pursuits.
Red Jasper is very calming, and aids in problem solving and insight. These stones are perfect for adrenal fatigue or burnout, helping to rejuvinate the lower chakras. They are beautiful stones for detoxing the blood, and removing blockages in the liver.
Red Jasper has a long history of being an Ancient Amulet used in many cultures. Although Red is seen to be a masculine color in the West, Red Jasper very much so represents feminine energy.
Mars rules Tuesday, and Tuesday is an excellent day to work with Red Jasper, as Mars brings forth vitality and progression.
SHIPPING:
Please allow up to 3-5 weeks for your order to be made, packaged, and shipped with love and care.

Package will be shipped USPS First Class with tracking.
Note From Kalaéja:
Thank you so much for supporting me and my art! Because of you, I am able to continue along this creative journey of mine. I am ever so grateful xx
~~
Jewelry Disclaimer: Because of the handmade nature of the work, very slight overall variations in texture, size, and details may occur. I do my absolute best to assure you that you will receive a very carefully and artfully crafted piece of jewelry.